Cosplays
Edit
Background
Edit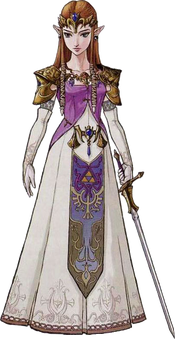 Zelda, Princess of Hyrule, best known simply as Princess Zelda, is the name for several female Hylians, usually members of the Royal Family of Hyrule, who often play an integral role in the series. Though each is the titular character of the Legend of Zelda series, the actual protagonist is each era's respective Link.
As the holder of the Triforce of Wisdom, she is wise beyond her years and intelligent enough to rule her people. She always wishes to do what is right for others and is extremely self-sacrificing. Though not always capable of defending herself or others on her own, she does not quit and tries to aid allies when she needs their help. She is also forgiving towards former enemies even when they have harmed her in some way. She is, however, extremely loyal towards the ones she cares for (such as Link) and does not tolerate them getting harmed.[1]
References
Edit
Ad blocker interference detected!
Wikia is a free-to-use site that makes money from advertising. We have a modified experience for viewers using ad blockers

Wikia is not accessible if you've made further modifications. Remove the custom ad blocker rule(s) and the page will load as expected.