Cosplays
Edit
Background
Edit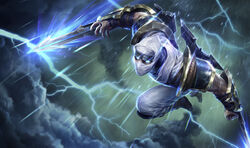 This character is from League of Legends.
An orphan, Zed was taken in and trained by a great ninja master. Only one other student appeared to be Zed's equal - the master's son, Shen. Armed with a secret edge, he challenged Shen, and defeated the master's son. He expected praise and recognition in his moment of victory, but somehow the master knew Zed had used forbidden ways, and banished him.
Humiliated, the young ninja wandered for years. His bitterness turned to ambition, and he began to train others in the style of the shadows. As his power grew, so did his circle of followers. Under his command, the old ninja order fell. Though many students died, some escaped thanks to Shen's heroic efforts. Now the temple is a dark training ground for the Order of the Shadow. Zed rules as the Order's master, and his edict is simple: perfect one's technique, and kill all ninjas who refuse to embrace the shadows.[1]
References
Edit