Cosplays
Edit
Background
Edit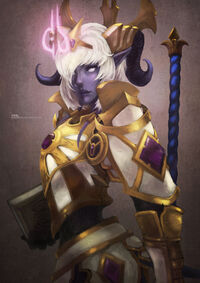 Exarch Yrel (pronounced "Yee-Rell") is a draenei paladin who is one of the main Alliance protagonists in the Warlords of Draenor expansion for World of Warcraft.
Yrel begins her story as an acolyte who was born and raised at the temple of Karabor. She was dedicated to her faith and spent much of her time in the temple, caring for others and showing great promise as a healer. Her gifts caught the eye of Velen, who accepted her as his pupil. Velen taught Yrel the value of leadership and sacrifice as she developed her other gifts. However, Velen's prophetic mind also sensed Yrel would have a large role to play in the future.[1]
References
Edit
Ad blocker interference detected!
Wikia is a free-to-use site that makes money from advertising. We have a modified experience for viewers using ad blockers

Wikia is not accessible if you've made further modifications. Remove the custom ad blocker rule(s) and the page will load as expected.