Cosplays
Edit
Background
Edit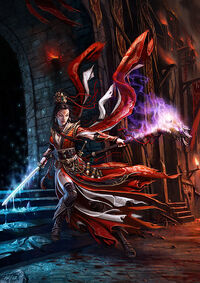 This class is from Diablo III.
Wizards are renegade spellcasters who use their bodies as vessels for arcane energy, forsaking the more careful path favored by other magic users. They manipulate all manner of forces to disintegrate, burn, and freeze their foes, and they can control time and light to teleport, create powerful illusions, and deflect oncoming attacks.
Wizards grip wands and staves to focus their less potent magics, blasting at their enemies while gathering the energy or time necessary to destroy them in a dazzling hail of arcane might.
With few exceptions, wizard attacks are conducted at a distance, away from danger. As living artillery, wizards are well suited to relying on long-range destructive power.[1]
References
Edit
Ad blocker interference detected!
Wikia is a free-to-use site that makes money from advertising. We have a modified experience for viewers using ad blockers

Wikia is not accessible if you've made further modifications. Remove the custom ad blocker rule(s) and the page will load as expected.