Cosplays
Edit
Background
Edit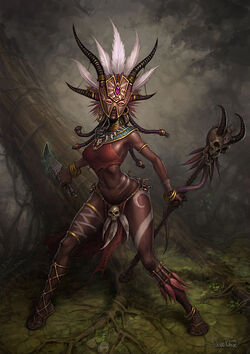 This character is from Diablo III and Heroes of the Storm (Nazeebo).
Witch doctors are spiritual warriors who summon dead souls and crawling creatures to do their bidding. By surrounding themselves with conjured zombies and vermin, witch doctors are free to assault their enemies with exploding skulls, acrid poison clouds, and wasting curses.
The ability to infect, slow and terrify their enemies gives witch doctors unprecedented control over a battlefield. They can manipulate opposing attacks and movements with debuffs and crowd control spells, rendering enemies easy prey for hungry pets. Witch doctors can also lay down fields of fire and venom that slowly leech life from advancing foes.
Although some witch doctors avoid melee combat in favor of augmenting their pets and crippling their enemies from afar, they are also more than capable of slaying weakened foes with their own hands.[1]
References
Edit
Ad blocker interference detected!
Wikia is a free-to-use site that makes money from advertising. We have a modified experience for viewers using ad blockers

Wikia is not accessible if you've made further modifications. Remove the custom ad blocker rule(s) and the page will load as expected.