Cosplays
Edit
Background
Edit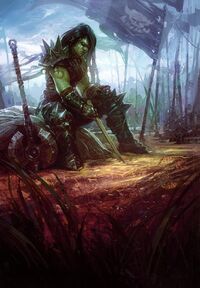 For as long as war has raged, heroes from every race have aimed to master the art of battle. Warriors combine strength, leadership, and a vast knowledge of arms and armor to wreak havoc in glorious combat.
Warriors are no mere sword-swingers; they are skilled combatants, combining strength of arm, knowledge of weaponry, and practiced maneuvers to slice or bludgeon their foes into little red bits. Warriors are the most versatile of the combat classes, and they supplement their fighting prowess with the ability to rally their allies and spur them to victory. They charge into the heart of the battle and survive the most grievous of wounds.[1]
References
Edit
Ad blocker interference detected!
Wikia is a free-to-use site that makes money from advertising. We have a modified experience for viewers using ad blockers

Wikia is not accessible if you've made further modifications. Remove the custom ad blocker rule(s) and the page will load as expected.