Cosplays
Edit
Background
Edit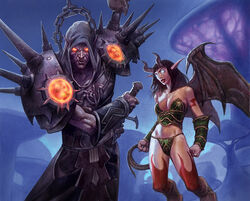 This class is from the Warcraft franchise.
Warlocks are magical practitioners that seek to understand darker, fel-based magics, including destructive spells. While many warlocks willingly follow the Burning Legion, there are those who work against it, using their magic to fight against evil. Warlocks have proven themselves to be powerful allies - as well as powerful foes.
Warlocks are renowned for their damage over time (DoT) spells, sinister Shadow magic, summoning demonic minions, and their ability to wreak havoc with destructive fire spells. Warlocks can specialize in any of these areas: Affliction warlocks are the masters of damage over time, draining their targets' health with an array of powerful debuffs; Demonology warlocks summon improved demons to do their bidding, drawing power from their minions and even transforming into demons themselves; Destruction warlocks call down a rain of fire upon their enemies, specializing in potent burst damage and fire spells.
Warlocks are often maligned and mistrusted due to the nature of their powers.[1]
References
Edit
Ad blocker interference detected!
Wikia is a free-to-use site that makes money from advertising. We have a modified experience for viewers using ad blockers

Wikia is not accessible if you've made further modifications. Remove the custom ad blocker rule(s) and the page will load as expected.