Cosplays
Edit
Background
Edit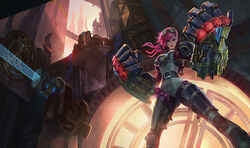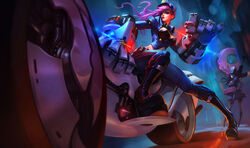 This character is from League of Legends.
To Vi, every problem is just another brick wall to punch through with her gigantic hextech gauntlets. Though she grew up on the wrong side of the law, Vi now uses her criminal know-how to serve Piltover's police force. Vi's brash attitude, abrasive humor, and blatant refusal to follow orders can often infuriate her by-the-books partner, Caitlyn. But even the sheriff of Piltover cannot deny that Vi is an invaluable asset in the fight against crime.[1]
References
Edit
Ad blocker interference detected!
Wikia is a free-to-use site that makes money from advertising. We have a modified experience for viewers using ad blockers

Wikia is not accessible if you've made further modifications. Remove the custom ad blocker rule(s) and the page will load as expected.