Cosplays
Edit
Cosplay reference kit
Edit
Default skin from Heroes of the Storm
Blood elf skin
Master skin
Warden skin
Background
Edit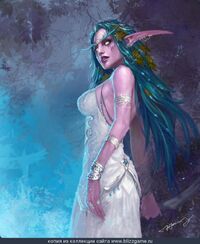 This character also appears in Heroes of the Storm.
Tyrande Whisperwind (pronounced Ti-Ran-Da) is the most prominent night elf leader, as the chosen high priestess of the goddess Elune, the former general of the night elf sentinels, and the current head of the Sisterhood of Elune. Together with her lifelong mate, the Archdruid Malfurion Stormrage, she has represented the highest leadership of the night elves since the fall of Queen Azshara and the Highborne caste ten thousand years ago. In World of Warcraft, she is found inside the Temple of the Moon within the Kaldorei's capital city of Darnassus.[1]
References
Edit
Ad blocker interference detected!
Wikia is a free-to-use site that makes money from advertising. We have a modified experience for viewers using ad blockers

Wikia is not accessible if you've made further modifications. Remove the custom ad blocker rule(s) and the page will load as expected.