Cosplays
Edit
Background
Edit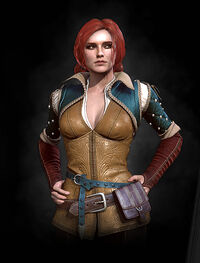 This character is part of The Witcher franchise.
Triss Merigold of Maribor is a sorceress. She is called the "Fourteenth of the Hill", as she was thought to have been killed during the Battle of Sodden Hill. She is a friend of Yennefer and of the witcher Geralt of Rivia. She is unhappily in love with the latter. Triss took care of Ciri at Kaer Morhen for some time, assisting the witchers in the rearing of a young girl. During this time, she became like an elder sister to Ciri. Triss was a member of King Foltest's royal council along with Fercart and Keira Metz, as well as a founding member of the Lodge of Sorceresses.
She is a skilled healer and carries with her many magical potions. Despite her prowess in alchemy, Triss is allergic to most potions. In addition to her skill in potion-making, Triss is a powerful wielder of magic.[1]
References
Edit
Ad blocker interference detected!
Wikia is a free-to-use site that makes money from advertising. We have a modified experience for viewers using ad blockers

Wikia is not accessible if you've made further modifications. Remove the custom ad blocker rule(s) and the page will load as expected.