Cosplays
Edit
Cosplay reference kit
Edit
Background
Edit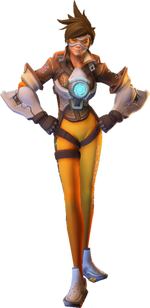 Lena Oxton (call sign: "Tracer") was the youngest person ever inducted into Overwatch's experimental flight program. Known for her fearless piloting skills, she was handpicked to test the prototype of a teleporting fighter, the Slipstream. But during its first flight, the aircraft's teleportation matrix malfunctioned, and it disappeared. Lena was presumed dead.
She reappeared months later, but her ordeal had greatly changed her: her molecules had been desynchronized from the flow of time.[1]
References
Edit
Ad blocker interference detected!
Wikia is a free-to-use site that makes money from advertising. We have a modified experience for viewers using ad blockers

Wikia is not accessible if you've made further modifications. Remove the custom ad blocker rule(s) and the page will load as expected.