Cosplays
Edit
Background
Edit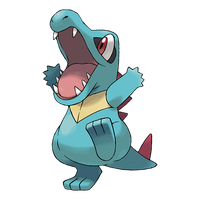 Totodile is a small Pokémon that appear as bipedal crocodiles. While most of a Totodile's body is blue, they have a yellow, v-shaped marking across their chest, red eyes, and red spikes that go down its back to its tail. These Pokémon are well known for their large mouths, filled with razor sharp teeth.
The shiny version of this Pokémon appears as having green or turquoise skin instead of blue and has dark blue spikes, which were previously red, along its back.
Totodile are very energetic, cheerful and rowdy, and occasionally can be seen running through swampy areas, biting and chomping at everything that moves around them.[1]
References
Edit
Ad blocker interference detected!
Wikia is a free-to-use site that makes money from advertising. We have a modified experience for viewers using ad blockers

Wikia is not accessible if you've made further modifications. Remove the custom ad blocker rule(s) and the page will load as expected.