Cosplays
Edit
Background
Edit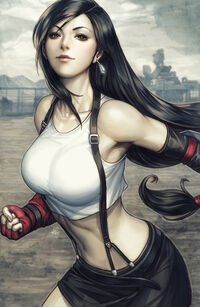 Tifa Lockhart has dark brown hair, occasionally appearing black, which falls below her waist and is tied at the tips to form a dolphin-tail split. In Final Fantasy VII: Advent Children and some other appearances, her hair is shorter and reaches the middle of her back. Tifa's eye color has been officially addressed as red, but they have been depicted as a brown in some appearances.
While deceptively strong, Tifa is empathic and emotionally shy. While identifying and responding to the feelings of others, Tifa does not express her feelings often and when she does she struggles doing so. Tifa has motherly qualities, acting as a support for others, and keeping the others around her optimistic.[1]
References
Edit
Ad blocker interference detected!
Wikia is a free-to-use site that makes money from advertising. We have a modified experience for viewers using ad blockers

Wikia is not accessible if you've made further modifications. Remove the custom ad blocker rule(s) and the page will load as expected.