Cosplays
Edit
Background
Edit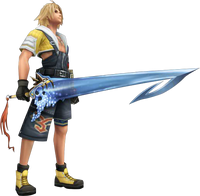 Tidus is the main protagonist of Final Fantasy X, a rising star blitzball player from Zanarkand. After the gargantuan monster known as Sin attacks his hometown, Tidus is transported to the world of Spira. Lost, confused, and seemingly out of place, Tidus meets a newly-fledged summoner named Yuna, and her guardians. Yuna is to set out on a pilgrimage to put an end to Sin, and by joining Yuna on her pilgrimage Tidus hopes he will find his way home.[1]
References
Edit
Ad blocker interference detected!
Wikia is a free-to-use site that makes money from advertising. We have a modified experience for viewers using ad blockers

Wikia is not accessible if you've made further modifications. Remove the custom ad blocker rule(s) and the page will load as expected.