Cosplay reference kit
Edit
Default skin from Heroes of the Storm
Hellhammer skin
Background
Edit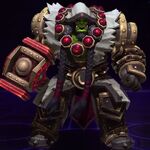 As a child, Thrall served the cruel Aedelas Blackmoore as a slave. After gaining his freedom, he guided the liberated orcs to a land of their own and worked to recover their ancient traditions.
Thrall is a hero from Heroes of the Storm, based off the character from World of Warcraft.
Ad blocker interference detected!
Wikia is a free-to-use site that makes money from advertising. We have a modified experience for viewers using ad blockers

Wikia is not accessible if you've made further modifications. Remove the custom ad blocker rule(s) and the page will load as expected.