Crossplays
Edit
Background
Edit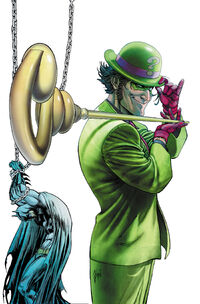 The Riddler, (Edward "E." Nigma, also spelled Nygma by some writers), is an enemy of Batman. Known for his purple domino mask and green question mark-covered costume, either as a skintight cat suit or a business suit and bowler hat and his special question mark shaped cane, the Riddler is obsessed with riddles, puzzles, and word games. He delights in forewarning police and Batman of his capers by sending them complex clues.
The Riddler's criminal modus operandi is so deeply ingrained into his personality that he is virtually powerless to stop himself from acting it out. He cannot simply kill his opponents when he has the upper hand; he has to put them in a deathtrap to see if he can devise a life and death intellectual challenge that the hero cannot solve and escape. However, unlike many of Batman's themed enemies, Riddler's compulsion is quite flexible, allowing him to commit any crime as long as he can describe it in a riddle or puzzle. He often has two female assistants, named Query and Echo.[1]
References
Edit
Ad blocker interference detected!
Wikia is a free-to-use site that makes money from advertising. We have a modified experience for viewers using ad blockers

Wikia is not accessible if you've made further modifications. Remove the custom ad blocker rule(s) and the page will load as expected.