Cosplays
Edit
Crossplays
Edit
Background
Edit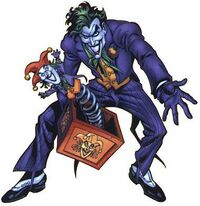 The Joker is a supervillain and the archenemy of Batman. The Joker is a master criminal with a clown-like appearance. Initially portrayed as a violent sociopath who murders people for his own amusement, the Joker later began to be written as a goofy trickster-thief. That characterization continued through the late 1950s and 1960s before the character returned as a vicious, calculating, psychopathic killer. The Joker has been responsible for numerous tragedies in Batman's life, including the paralysis of Barbara Gordon (Batgirl/Oracle) and the murders of Jason Todd (the second Robin) and Jim Gordon's second wife Sarah Essen.[1]
References
Edit
Ad blocker interference detected!
Wikia is a free-to-use site that makes money from advertising. We have a modified experience for viewers using ad blockers

Wikia is not accessible if you've made further modifications. Remove the custom ad blocker rule(s) and the page will load as expected.