Cosplays
Edit
Background
Edit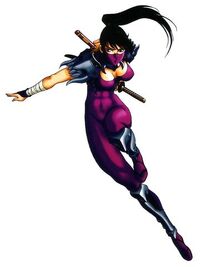 This character is from the Soulcalibur franchise.
As a ninja, Taki puts her mission above everything else. She will end evil through her own ways. She seems to show concern to some people who are connected with Soul Edge and warns them the dangers of the evil blade. She can be emotionless and serious, as a ninja should be. She easily sees through deceptions and will use the best attack to defeat her opponent.
Taki truly cares for her apprentice, Natsu, having chosen to take an active part in raising her due to her own perceived failure in stopping Arahabaki in time. However, she has mentally prepared herself to 'do what's necessary' if the seal containing the demon within Natsu were ever broken.[1]
References
Edit
Ad blocker interference detected!
Wikia is a free-to-use site that makes money from advertising. We have a modified experience for viewers using ad blockers

Wikia is not accessible if you've made further modifications. Remove the custom ad blocker rule(s) and the page will load as expected.