Cosplays
Edit
Cosplay reference kit
Edit
Background
Edit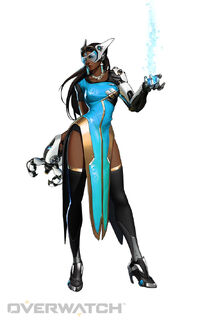 After she was identified as one of the few capable of becoming a light-bending architech, young Satya Vaswani (Symmetra) was plucked from extreme poverty and placed in the care of Vishkar's architech academy, never to return home. Isolated and lonely in her new life, Satya immersed herself in her education and training. She quickly grasped the applications of the technology and was one of the top students in her class. Satya approached hard-light manipulation differently than her peers, with their more procedural, mechanical constructions, instead weaving her constructs in the motions of the traditional dance of her homeland.[1]
References
Edit
Ad blocker interference detected!
Wikia is a free-to-use site that makes money from advertising. We have a modified experience for viewers using ad blockers

Wikia is not accessible if you've made further modifications. Remove the custom ad blocker rule(s) and the page will load as expected.