Cosplays
Edit
Cosplay reference kit
Edit
Default skin from Heroes of the Storm
Master skin
Ranger-General skin
Background
Edit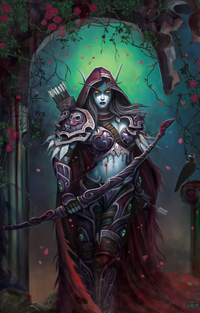 This character is from World of Warcraft and Heroes of the Storm.
Once the Ranger-General of Silvermoon, Sylvanas Windrunner was murdered by the death knight, Arthas, and brought back as a creature of undeath; as such, she hates Arthas with a passion. After regaining her free will, she rebelled against the Lich King and the Scourge and became the founder of the Forsaken faction of undead, who are allied with the Horde. She has styled herself the Dark Lady, Queen of the Forsaken, an expansion of her original title, "the Banshee Queen".[1]
References
Edit
Ad blocker interference detected!
Wikia is a free-to-use site that makes money from advertising. We have a modified experience for viewers using ad blockers

Wikia is not accessible if you've made further modifications. Remove the custom ad blocker rule(s) and the page will load as expected.