Cosplays
Edit
Background
Edit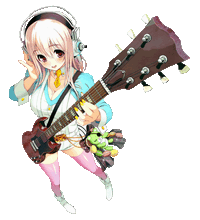 Sonico is depicted as a moe-type, busty teenage girl with pink-colored hair, donning her signature headphones. Various different artists choose to depict her in their own specific style, whilst generally keeping her most trademark traits, namely her headphones, hair color, and large bust. She plays the role of a gravure idol, musician and college student. She is canonically 18 years of age, and is the vocalist and guitarist of the fictional band First Cosmic Velocity.
Ad blocker interference detected!
Wikia is a free-to-use site that makes money from advertising. We have a modified experience for viewers using ad blockers

Wikia is not accessible if you've made further modifications. Remove the custom ad blocker rule(s) and the page will load as expected.