Cosplays
Edit
Background
Edit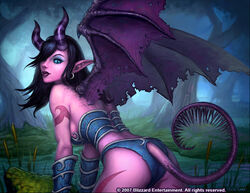 This race is from the Warcraft franchise.
A succubus (plur. succubi) is a stunningly beautiful woman. Her voluptuous form is squeezed into a tight leather-bodice. Large bat wings unfurl from her back, and she lets out a short gasp as she cracks a small whip against her milky thigh. A succubus is pleasure and pain rolled into one deadly package. Like all demons, she enjoys bringing death and misery to the mortal races — but that doesn't mean she cannot have fun with them first.
Many warlocks choose a succubus as a fellow companion for their ability to manipulate those weak of will. It is not uncommon for a succubus in a mortal's servitude to fall uncontrollably in love with him or her; this occurrence is not always to the master's advantage, though, for a devoted succubus can be prone to fits of extreme jealousy, especially when her master deals with those of the opposite sex.[1]
References
Edit
Ad blocker interference detected!
Wikia is a free-to-use site that makes money from advertising. We have a modified experience for viewers using ad blockers

Wikia is not accessible if you've made further modifications. Remove the custom ad blocker rule(s) and the page will load as expected.