Cosplays
Edit
Background
Edit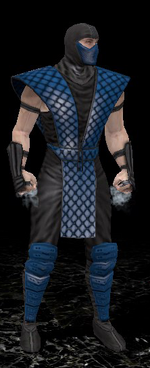 Kuai Liang, also known as Sub-Zero, formerly known as Tundra and the cyborg LK-52O, is a Lin Kuei assassin in the Mortal Kombat fighting game series. He is the younger brother of Bi-Han, who was the original Sub-Zero in the first Mortal Kombat game. The younger Sub-Zero made his debut in Mortal Kombat II.
There are in fact two incarnations of Sub-Zero, and they are siblings; older brother Bi-Han and younger brother Kuai Liang. Both are blue garbed warriors who at different times have used the codename "Sub-Zero", and both have served the Lin Kuei. Both descended from Cryomancers, an Outworld race possessing the ability to generate and control the powers of ice. After Bi-Han was murdered by Scorpion during the tournament, Kuai Liang swore revenge on him. He mastered the art of Ice and Cold, and took his brother's former code name: Sub-Zero. Driven by anger, Kuai Liang entered The Mortal Kombat Tournament with one goal: to destroy his brother's killer, and anyone else that gets in the way.[1]
References
Edit
Ad blocker interference detected!
Wikia is a free-to-use site that makes money from advertising. We have a modified experience for viewers using ad blockers

Wikia is not accessible if you've made further modifications. Remove the custom ad blocker rule(s) and the page will load as expected.