Cosplays
Edit
Background
Edit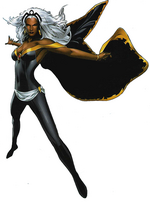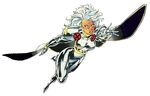 After her parents were murdered in the rubble of a plane crash, Ororo Munro began life as a thief with a severe case of claustrophobia, until she was worshiped as a goddess in a tribe in Africa. After Professor Charles Xavier recruited her for his X-Men, Ororo matured to the point of leading them, fighting for the peaceful coexistence of mutants and humans most of her life as Storm.
With her mutant power to manipulate the forces that govern weather, enabling her to summon wind, rain, sleet, snow, and even lightning at will, Storm is the powerful Headmistress of the Jean Grey School and remains a stalwart veteran X-Man.[1]
References
Edit
Ad blocker interference detected!
Wikia is a free-to-use site that makes money from advertising. We have a modified experience for viewers using ad blockers

Wikia is not accessible if you've made further modifications. Remove the custom ad blocker rule(s) and the page will load as expected.