Cosplays
Edit
Background
Edit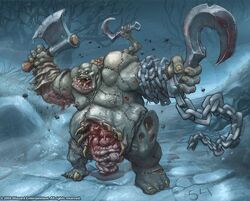 Stitches is an abomination found in Duskwood. Abercrombie the Embalmer creates Stitches as a "gift" for Lord Ello Ebonlocke, the mayor of Darkshire — sending him to terrorize the town. When the first guard dies against Stitches, the Town Crier yells a warning to everyone in Duskwood that an "abomination of the undead" is approaching.[1]
While Stitches is a character from the World of Warcraft series, he appears as a warrior-type character, customizable to take on a siege role in Heroes of the Storm.
References
Edit
External links
Edit
Ad blocker interference detected!
Wikia is a free-to-use site that makes money from advertising. We have a modified experience for viewers using ad blockers

Wikia is not accessible if you've made further modifications. Remove the custom ad blocker rule(s) and the page will load as expected.