Cosplays
Edit
Background
Edit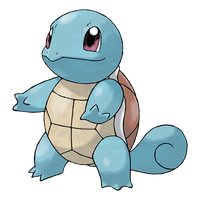 Squirtle is a small, light-blue Pokémon with an appearance similar to that of a turtle. Like turtles, Squirtle has a shell that covers its body with holes that allow its limbs, tail, and head to be exposed. Unlike a turtle, Squirtle is ordinarily bipedal.
Squirtle has the ability Torrent, which boosts the power of its water type attacks. Squirtle also has the natural ability to shoot water from its mouth, which is where the bulk of its attacks comes from. In order to defend itself from physical attacks, Squirtle hides itself in its shell.[1]
References
Edit
Ad blocker interference detected!
Wikia is a free-to-use site that makes money from advertising. We have a modified experience for viewers using ad blockers

Wikia is not accessible if you've made further modifications. Remove the custom ad blocker rule(s) and the page will load as expected.