Cosplays
Edit
Background
Edit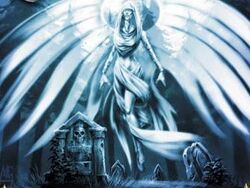 This character is from the Warcraft universe.
A Spirit Healer is an angelic being. Spirit Healers wait within the astral realm / spirit world for those unfortunate adventurers whose spirits will soon join them. These floating figures of death and rebirth return people to life where their spirit stands. They are usually encountered at a graveyard after death. Although it can't be seen while dead, a Spirit Healer has blue skin and white wrappings. Its wings are a paler blue.[1]
References
Edit
Ad blocker interference detected!
Wikia is a free-to-use site that makes money from advertising. We have a modified experience for viewers using ad blockers

Wikia is not accessible if you've made further modifications. Remove the custom ad blocker rule(s) and the page will load as expected.