Crossplays
Edit
Background
Edit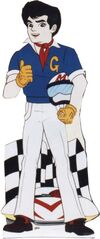 Speed Racer, originally Gō Mifune, is known for his love of racing and valuing his family. He drives the Mach 5 (as well as other cars, such as the Mach 6 in the movie) and always manages to wind up in extreme danger with either his younger brother or his girlfriend Trixie. Speed is shown to miss his older brother, Rex (secretly disguised as the Racer X).
Off the track, he wears a blue shirt with an orange "G" with a white collar, a red racing bandanna around his neck, white pants, red socks, brown loafers and yellow gloves. He has a brown, almost black, pompadour, and his eyes are brown (in the anime version they are blue). In racing, he sports a white open-face helmet with an M on top. In the anime, on special occasions, Speed wears a red blazer with a yellow "G" embroidered on it.[1]
References
Edit
Ad blocker interference detected!
Wikia is a free-to-use site that makes money from advertising. We have a modified experience for viewers using ad blockers

Wikia is not accessible if you've made further modifications. Remove the custom ad blocker rule(s) and the page will load as expected.