Cosplays
Edit
Background
Edit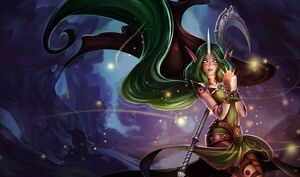 This character is from League of Legends.
A healer gifted with the magic of the stars, Soraka holds all living creatures close to her heart. She was once a celestial being, but she sacrificed her immortality and entered the world of mortals. So long as evil threatens life in Valoran, Soraka will not allow herself peace.
Tricked by Warwick into using her powers for offense rather than healing, she fell from grace, becoming mortal. Perhaps greater than this loss was the realization that he had tricked her into doing this all along, attempting to murder her after she rescued and healed him. Soraka managed to fight him off; she now wanders the world, vowing to use her powers for mending.[1]
References
Edit