Cosplays
Edit
Background
Edit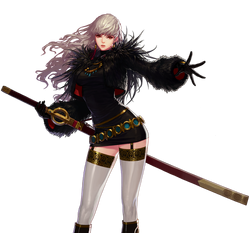 This class is from Dungeon Fighter Online.
Slayers (or Ghost Knights) derives their power from the demon Kazan, who dwells within their arm, locking them in a perpetual struggle to keep from being possessed completely. Only the thick, mystical chains shackled to them keep the dark parasite at bay. As a consequence, a Slayer can only wield a weapon in one hand, a disability fashioned into a distinct advantage, doing with one arm what most other swordsmen would need two to do. They primarily attack their enemies with swords and blunt weapons, but can also, when in a dungeon high in demonic energy, call upon the dark power to cast magic spells. This dark power also gives the Slayer a particularly high resistance to Shadow energy, but unusually low resistance to Light energy.[1]
References
Edit
Ad blocker interference detected!
Wikia is a free-to-use site that makes money from advertising. We have a modified experience for viewers using ad blockers

Wikia is not accessible if you've made further modifications. Remove the custom ad blocker rule(s) and the page will load as expected.