Cosplays
Edit
Background
Edit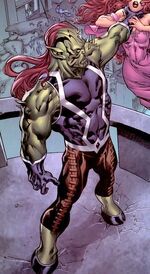 The Skrulls are a breed of green-skinned humanoids from the Andromeda Galaxy. They are a fierce warrior race who carved for themselves the oldest interstellar empire in the universe's history. Skrull science is generally at a higher level than the science of human civilization. The Skrulls were ruled by an Emperor or Empress, who had absolute power.
Their shape-shifting powers aided the Skrulls' departure into space. When they encountered a new race, they simply transformed themselves to resemble that race.[1]
References
Edit
Ad blocker interference detected!
Wikia is a free-to-use site that makes money from advertising. We have a modified experience for viewers using ad blockers

Wikia is not accessible if you've made further modifications. Remove the custom ad blocker rule(s) and the page will load as expected.