Cosplays
Edit
Background
Edit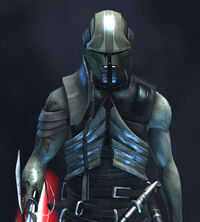 Sith Stalker Armor was a type of armor that was cybernetically grafted to the wearer, covering the entire body save the arms. Featuring design details resembling those found on Mandalorian and Ubese armor, Sith Stalker Armor presented a forboding and grisly countenance. Historically, this type of armor was favored by vicious Sith assassins who were highly feared within the ranks of both the Sith and the Jedi.[1]
References
Edit
Ad blocker interference detected!
Wikia is a free-to-use site that makes money from advertising. We have a modified experience for viewers using ad blockers

Wikia is not accessible if you've made further modifications. Remove the custom ad blocker rule(s) and the page will load as expected.