Cosplays
Edit
Background
Edit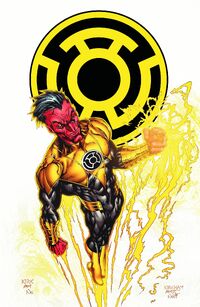 Thaal Sinestro of Korugar is the arch-nemesis of Green Lantern. At one point the greatest member of the Green Lantern Corps, he was corrupted by his power and exiled for crimes against his own people. He now seeks to impose his own order and control onto the universe, employing a yellow power ring to combat the green he has grown to despise. His prowess and ruthlessness have made him one of the most feared villains in existence, and eventually he establishes his own Sinestro Corps.[1]
References
Edit
Ad blocker interference detected!
Wikia is a free-to-use site that makes money from advertising. We have a modified experience for viewers using ad blockers

Wikia is not accessible if you've made further modifications. Remove the custom ad blocker rule(s) and the page will load as expected.