Cosplays
Edit
Background
Edit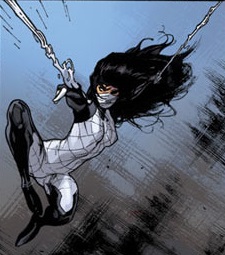 When high school student Cindy Moon was attending a public exhibition demonstrating the safe handling of nuclear laboratory waste materials, a spider irradiated by a particle accelerator bit Peter Parker in the hand and fell from his hand, then bit Cindy in her ankle before dying. The first manifestation of her powers happened when her uncontrollable organic webbing accidentally caused her to web up her parents. Ezekiel Sims took Cindy away. He trained Cindy in the use of her powers until he realized the totemic predator Morlun was tracking her. He then locked her away in a room that blocked Morlun's detection at the bottom of his tower to protect her.
Cindy's story was revealed to Peter, now the hero known as Spider-Man, when the Orb released some of the Watcher's secrets and he went to free Cindy. She tried to warn him about Morlun, but he opened the door anyway and she attacked him for dooming them to being hunted down by Morlun. Peter reveals that Morlun is dead, and after realizing she was free, she made an improvised costume of webs and told Spider-Man to call her Silk before going to her parents' home.[1]
References
Edit
Ad blocker interference detected!
Wikia is a free-to-use site that makes money from advertising. We have a modified experience for viewers using ad blockers

Wikia is not accessible if you've made further modifications. Remove the custom ad blocker rule(s) and the page will load as expected.