Cosplays
Edit
Background
Edit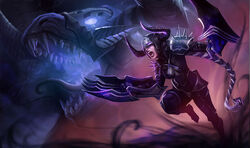 This character is from League of Legends.
A half-breed born from the union between dragon and human, Shyvana searched all her life for belonging. Persecution forged her into a brutal warrior, and those who dare stand against Shyvana face the fiery beast lurking just beneath her skin.
Inspired by her ferocity, Jarvan offered her a place in the ranks of his elite guard. Shyvana could still see fear in the eyes of his men, but she longed for a true home. Trusting Jarvan's word, she accepted his offer and now serves as a Demacian warrior. Though her human allies admire her power, they keep their distance. Shyvana strives to repay the prince's kindness with the power of the dragon within, but she cannot help but wonder if the humans are right to fear her.[1]
References
Edit