Cosplays
Edit
Background
Edit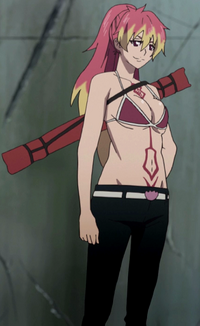 Shura Kirigakure is an Upper-First class Exorcist and Rin Okumura's mentor. She trained under the guidance of Shiro Fujimoto to obtain the title Meister as a Knight. She officially works as an Inspector for the Vatican, but has infiltrated True Cross Academy, first as a student under the name Yamada, and later as a teacher for the Exwires.
Shura has a rather laid-back personality and uses slang; such as using yer instead of your, you're, or you. She is also noted to be rather blunt, speaking freely about sensitive topics, as well as not being hesitant in pointing out others' flaws. Even with her superiors, she is not afraid to challenge them, which on a few occasions resulted in a physical conflict.[1]
References
Edit
Ad blocker interference detected!
Wikia is a free-to-use site that makes money from advertising. We have a modified experience for viewers using ad blockers

Wikia is not accessible if you've made further modifications. Remove the custom ad blocker rule(s) and the page will load as expected.