Cosplays
Edit
Background
Edit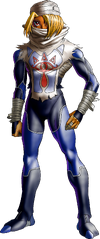 Sheik is a character from The Legend of Zelda: Ocarina of Time. Sheik serves as Princess Zelda's alter ego in the game; to escape Ganondorf's capture, Zelda passes herself off as a male Sheikah known as Sheik. Throughout the course of the game, Sheik aids Link, who is initially not privy to Sheik's true identity, by providing him with information and teaching him teleportation songs with a lyre.
Sheik's physical appearance and frequent usage of Deku Nuts as a means to vanish quickly is decidedly reminiscent of a typical ninja. Possibly owing to this, Sheik has become a popular character in The Legend of Zelda mythos, despite currently appearing only in one game out of the main series. In the later games where Sheik appears, she has a more feminine body figure.[1]
References
Edit
Ad blocker interference detected!
Wikia is a free-to-use site that makes money from advertising. We have a modified experience for viewers using ad blockers

Wikia is not accessible if you've made further modifications. Remove the custom ad blocker rule(s) and the page will load as expected.