Cosplays
Edit
Background
Edit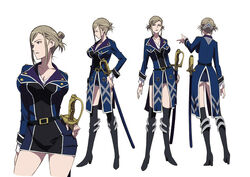 This character is from the K series.
Seri Awashima is the Lieutenant of Scepter 4. For a brief time, she became a member of the Silver Clan following the return of Adolf K. Weismann.
Seri is a tall, young woman with shoulder-length, wavy blonde hair and blue eyes. When at work, she usually clips her bangs to the left side of her head, aside from two locks that fall freely on both her left and right. She also ties her hair into two tight buns on the back of her head, with several loose strands flying out. Both buns are connected by a blue and white tiara-like hair clip.
As a Clansman hailing from Scepter 4, Seri wears their signature blue uniform, though hers is a more form-fitting variation of the outfit. It consists of a white shirt tucked underneath a closed, blue overcoat with prominent black and gold-colored lining. Seri also wears a dark blue mini dress underneath that just barely covers her buttocks. She has a pair of thigh-high, low-heeled black boots with metallic plates attached to the nose and end.[1]
References
Edit
Ad blocker interference detected!
Wikia is a free-to-use site that makes money from advertising. We have a modified experience for viewers using ad blockers

Wikia is not accessible if you've made further modifications. Remove the custom ad blocker rule(s) and the page will load as expected.