Cosplays
Edit
Crossplays
Edit
Background
Edit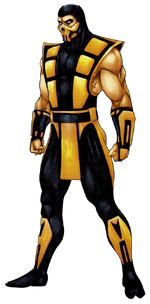 Hanzo Hasashi, now known as Scorpion, is a resurrected ninja in the Mortal Kombat fighting game series. He is one of the very few original characters, debuting in the first Mortal Kombat arcade game. He holds the unique distinction, along with Raiden and Sub-Zero (in one form or another), of appearing in every generation of Mortal Kombat games as a playable character.
Scorpion is a hell-spawned spectre, inexorably seeking vengeance against those responsible for the destruction of his clan and the death of his own family. Despite his malevolent appearance, he is not inherently evil. He joins the forces of evil when promised a means of resurrecting his clan on Earth, or the chance to inflict his wrath against those who butchered them. Scorpion has also (indirectly) assisted the game's protagonists to fulfill these motives.[1]
References
Edit
Ad blocker interference detected!
Wikia is a free-to-use site that makes money from advertising. We have a modified experience for viewers using ad blockers

Wikia is not accessible if you've made further modifications. Remove the custom ad blocker rule(s) and the page will load as expected.