Cosplays
Edit
Background
Edit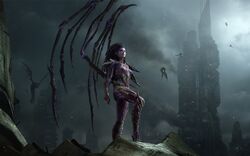 This character is from StarCraft.
Sarah Louise Kerrigan was a psychic terran female. She began her career as a Confederate ghost and later became the second-in-command of the Sons of Korhal. Following Arcturus Mengsk's betrayal, she was captured and infested by the Zerg Swarm, ultimately becoming the self-proclaimed Queen of Blades and leader of the Swarm.
At the Dominion Ghost Academy, ghosts in training are told the Confederacy allowed Kerrigan to "defect" to the zerg. Non-control zerg strains refer to her as "the Kerrigan."[1]
References
Edit
External links
Edit
Ad blocker interference detected!
Wikia is a free-to-use site that makes money from advertising. We have a modified experience for viewers using ad blockers

Wikia is not accessible if you've made further modifications. Remove the custom ad blocker rule(s) and the page will load as expected.