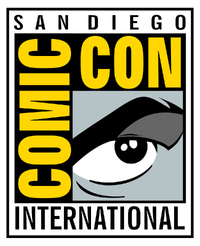 Comic-Con International: San Diego is a nonprofit educational corporation dedicated to creating awareness of, and appreciation for, comics and related popular artforms, primarily through the presentation of conventions and events that celebrate the historic and ongoing contribution of comics to art and culture.
Comic-Con International: San Diego began in 1970 when a group of comics, movie, and science fiction fans -- including the late Shel Dorf, Ken Krueger, and Richard Alf -- banded together to put on the first comic book convention in southern California. Comic-Con started as a one-day "minicon," called San Diego's Golden State Comic-Minicon, on March 21, 1970 at the U.S. Grant Hotel in downtown San Diego. The purpose of this single-day event—which included two special guests, Forrest J. Ackerman and Mike Royer, and drew about 100 attendees—was to raise funds and generate interest for a larger convention. The success of the minicon led to the first full-fledged, three-day San Diego Comic-Con (called San Diego's Golden State Comic-Con), held August 1–3, 1970, at the U.S. Grant Hotel, with guests Ray Bradbury, Jack Kirby, and A. E. van Vogt. Over 300 attendees packed into the hotel's basement for that groundbreaking event, which featured a dealers' room, programs and panels, film screenings, and more: essentially, the model for every comic book convention to follow.
Over the years, Comic-Con has become the focal point for the world of comics conventions. The event continues to offer the complete convention experience: a giant Exhibit Hall (topping over 460,000 square feet in its current incarnation); a massive programming schedule (close to 700 separate events in 2014), featuring comics and all aspects of the popular arts, including hands-on workshops and educational and academic programming such as the Comics Arts Conference; anime and film screenings (including a separate film festival); games; the Will Eisner Comic Industry Awards, the "Oscars" of the comics industry; a Masquerade costume competition with prizes and trophies; an Autograph Area; an Art Show; and Portfolio Reviews, bringing together aspiring artists with major companies.
Some entries are solo costumes; others are groups with a shared theme. Many will be fabulous re-creations from movies, TV shows, anime, computer games, history, and of course comic books, but some completely original designs will be presented as well, some never seen before anywhere. All costume genres are welcome, but no purchased or professionally sourced ones are allowed. It's a celebration of imagination and craftsmanship, not shopping ability, and to have a great time is the main objective.
External links
Edit