Cosplays
Edit
Background
Edit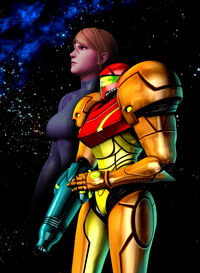 Samus Aran is an intergalactic bounty hunter and the main protagonist of the Metroid series.
Orphaned during a Space Pirate raid on her home of K-2L, Samus was adopted by the mysterious Chozo and taken to Zebes where she was infused with their DNA and raised to become a warrior. Once she reached adulthood, Samus joined the Federation Police where she served under the Commanding Officer Adam Malkovich, but she ultimately left to become a Bounty Hunter, though she was nonetheless recruited by the Galactic Federation on many occasions.
Armed in her cybernetic Power Suit, Samus has become famous for her accomplishments on missions others thought impossible. Her most renowned achievements are the destruction of the Space Pirate base on Zebes, her role in ending the Galactic Phazon crisis, her extermination of the Metroid species, and her disobedience of orders at the BSL station where she chose to destroy the deadly X Parasites rather than turn them over to the Galactic Federation.[1]
References
Edit
Ad blocker interference detected!
Wikia is a free-to-use site that makes money from advertising. We have a modified experience for viewers using ad blockers

Wikia is not accessible if you've made further modifications. Remove the custom ad blocker rule(s) and the page will load as expected.