Cosplays
Edit
Background
Edit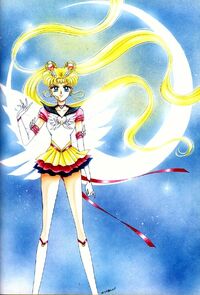 Sailor Moon is the title character and leader of the Sailor Senshi and the secret identity of Usagi Tsukino.
Sailor Moon's original fuku consists of a white leotard with a blue collar that has three stripes on it, light yellow shoulder pads, and a blue skirt, along with a red bow on the chest and at the back. She also wore a pair of red knee-high boots with a white border at the triangular top and crescent moons, gold earrings consisting of a stars with a crescent moon beneath, white-bordered red circular hairpieces (one on each odango), feather barrettes in her hair, and a choker with a golden crescent moon on it with a clip that is similar to her transformation brooch attached to it. Her brooch is worn on the middle of her chest bow.[1]
References
Edit
Ad blocker interference detected!
Wikia is a free-to-use site that makes money from advertising. We have a modified experience for viewers using ad blockers

Wikia is not accessible if you've made further modifications. Remove the custom ad blocker rule(s) and the page will load as expected.