Cosplays
Edit
Background
Edit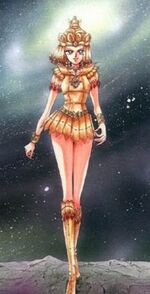 Sailor Galaxia is one of the main antagonists in the final arc of the Sailor Moon manga and anime. She is well-known amongst the Galaxy for wrecking havoc and ruining worlds in her quest to obtain the strongest Senshi Crystal. She is the most powerful Sailor Senshi in the galaxy and the ruler of Shadow Galactica. She is known as the Soldier of Solitude and Destruction.
In her civilian form, Galaxia has long, wavy, flowing hair which is golden orange and gradates into a bright red. She wears a soft lime green dress that reaches down to her feet.
As a Sailor Senshi, her uniform is not the same as the other Sailor Senshi in the anime and manga. Her Sailor Fuku is pure gold with a gold head dress, similar to a Russian kokoshnik. She wears orange lipstick and light purple eyeshadow and has red eyes. [1]
References
Edit
Ad blocker interference detected!
Wikia is a free-to-use site that makes money from advertising. We have a modified experience for viewers using ad blockers

Wikia is not accessible if you've made further modifications. Remove the custom ad blocker rule(s) and the page will load as expected.