Cosplays
Edit
Background
Edit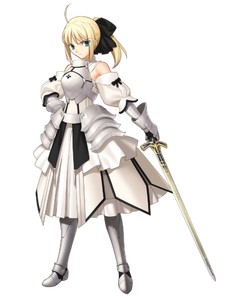 Saber is one of the main characters of Fate/Zero and one of the three main heroines of Fate/stay night. She is the Saber-class Servant of Kiritsugu Emiya in the Fourth Holy Grail War and Shirou Emiya in the Fifth Holy Grail War.
Saber has the appearance of a young woman in her late teens with a slender physique and soft, white skin. She has "finely textured" golden hair that seems "as if sprinkled with gold dust." She normally wears shining armor with an old styled dress, made from old-fashioned blue cloth, underneath.[1]
References
Edit
Ad blocker interference detected!
Wikia is a free-to-use site that makes money from advertising. We have a modified experience for viewers using ad blockers

Wikia is not accessible if you've made further modifications. Remove the custom ad blocker rule(s) and the page will load as expected.