Crossplays
Edit
Background
Edit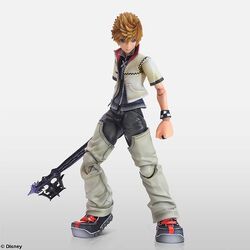 This character is from the Kingdom Hearts franchise.
Roxas, the Key of Destiny, is the Nobody of Sora and was Rank XIII within Organization XIII. Like Naminé, he was born when Sora released his own heart in order to restore Kairi's. Although Sora's heart was soon restored, Roxas continued to endure and exist, oblivious to Sora's existence for most of his life. He has the ability to use the Keyblade, and wields light, using it to direct rays that strike opponents with great power. He commands the Samurai Nobodies. He is strongly like Ventus, as Xigbar reveals in the Secret Reports.
Roxas, unlike other Nobodies, seems to possess real emotions, due to his possession of Ventus's heart that stayed with him once he and Sora were separated during Roxas' creation. Many ranges of feelings come from him depending on his situation. Being Sora's other half, his personality is similar to that of his counterpart.[1]
References
Edit
Ad blocker interference detected!
Wikia is a free-to-use site that makes money from advertising. We have a modified experience for viewers using ad blockers

Wikia is not accessible if you've made further modifications. Remove the custom ad blocker rule(s) and the page will load as expected.