Background
Edit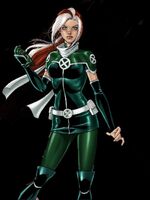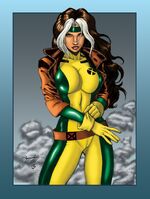 Rogue is part of a subspecies of humans called mutants, who are born with superhuman abilities. Rogue has the involuntary ability to absorb and sometimes also remove the memories, physical strength, and superpowers of anyone she touches. Therefore, Rogue considers her powers a curse. For most of her life, she limited her physical contact with others, including her on-off love interest, Gambit; but, after many years, Rogue finally gained full control over her mutant ability.
Hailing from the fictional Caldecott County, Mississippi, Rogue is the X-Men's self-described southern belle. A runaway, she was adopted by Mystique of the Brotherhood of Evil Mutants and grew up as a villain. After Rogue permanently absorbed Ms. Marvel's psyche and Kree powers, she reformed and turned to the X-Men, fearing for her sanity. Rogue's real name and early history were not revealed until nearly 20 years after her introduction. Her name was revealed as Anna Marie, although her surname is still unknown.[1]
References
Edit
External links
Edit
Ad blocker interference detected!
Wikia is a free-to-use site that makes money from advertising. We have a modified experience for viewers using ad blockers

Wikia is not accessible if you've made further modifications. Remove the custom ad blocker rule(s) and the page will load as expected.