Cosplays
Edit
Background
Edit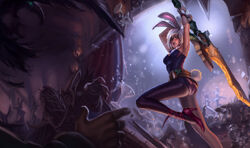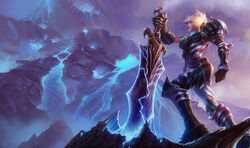 This character is from League of Legends.
In Noxus, any citizen may rise to power regardless of race, gender, or social standing - strength is all that matters. It was with committed faith in this ideal that Riven strove to greatness. She showed early potential as a soldier, forcing herself to master the weight of a long sword when she was barely its height. She was ruthless and efficient as a warrior, but her true strength lay in her conviction. She entered battles without any trace of doubt in her mind: no ethical pause, no fear of death. Riven became a leader amongst her peers, poster child of the Noxian spirit. So exceptional was her passion that the High Command recognized her with a black stone rune sword forged and enchanted with Noxian sorcery. The weapon was heavier than a kite shield and nearly as broad - perfectly suited to her tastes. Soon after, she was deployed to Ionia as part of the Noxian invasion.[1]
References
Edit
Ad blocker interference detected!
Wikia is a free-to-use site that makes money from advertising. We have a modified experience for viewers using ad blockers

Wikia is not accessible if you've made further modifications. Remove the custom ad blocker rule(s) and the page will load as expected.