Cosplays
Edit
Background
Edit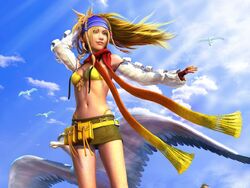 Rikku is an Al Bhed girl who is a playable character in both Final Fantasy X, and its direct sequel, Final Fantasy X-2. In Final Fantasy X-2, the now 17-year-old Rikku wears her longer hair loose and braided, tied atop her head, adorned with colorful beads, and held by a blue bandana. Rikku has a separate appearance for each of the thirteen dresspheres used in combat, with details that distinguish her in each dressphere from Paine and Yuna. Rikku's default look is the Thief dressphere where she wears a yellow g-string bikini and an olive green mini-skirt, carrying two pouches at her waist and ruffle sleeves. A long yellow and red scarf hangs loosely around her neck. Wearing the Thief dressphere in combat, she wields two red dagger-like blades designed for rapid attacks.[1]
References
Edit
Ad blocker interference detected!
Wikia is a free-to-use site that makes money from advertising. We have a modified experience for viewers using ad blockers

Wikia is not accessible if you've made further modifications. Remove the custom ad blocker rule(s) and the page will load as expected.