Cosplays
Edit
Background
Edit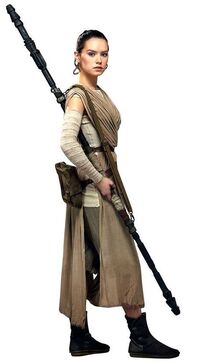 Rey was a human female scavenger and Force prodigy who discovered her latent Force-sensitivity while on a journey to find the legendary Jedi Master Luke Skywalker and bring a new hope to a galaxy on the brink of war. Rey grew up alone in the wastes of the desert planet Jakku, hoping for the day her family would return for her while honing her skills as a scavenger and a warrior. Her life changed forever when she encountered BB-8, a Resistance astromech droid who carried information about Skywalker's whereabouts, and a stormtrooper named Finn who defected from the First Order. They were hunted by the First Order, escaped from Jakku aboard the Millennium Falcon, and found help from Han Solo and Chewbacca in their journey to the Resistance base on D'Qar.[1]
References
Edit
Ad blocker interference detected!
Wikia is a free-to-use site that makes money from advertising. We have a modified experience for viewers using ad blockers

Wikia is not accessible if you've made further modifications. Remove the custom ad blocker rule(s) and the page will load as expected.